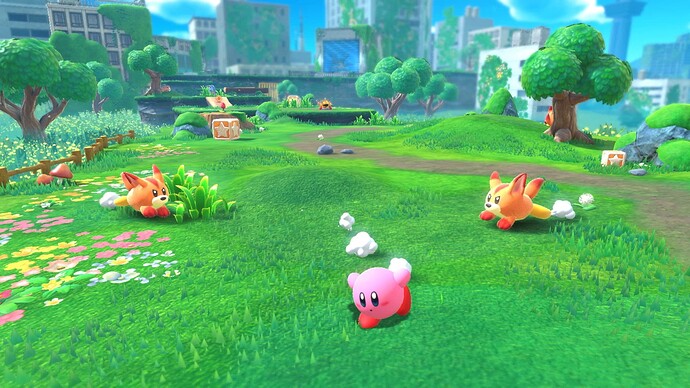 Hardware
Switch è in leggero calo e si ferma ad 83mila unità vendute. Molto bene PS5, in forte crescita: sono oltre 35mila le nextgen Sony "piazzate" questa settimana.
Software
Kirby and the Forgotten Land è il campione assoluto della Top30: con 380mila copie vendute al debutto la simpatica mascotte Nintendo si prende la testa della classifica e sembra destinata ad infrangere nuovi record per la serie, in Giappone.
Ghostwire: Tokyo debutta, senza clamori, con poco più di 10mila copie.
Famitsu Sales: Week 13, 2022 (Mar 21 – Mar 27)
01./00. [NSW] Kirby and the Forgotten Land (Nintendo) {2022.03.25} (¥5.980) – 380.060 / NEW <60-80%>
02./05. [NSW] Mario Kart 8 Deluxe (Nintendo) {2017.04.28} (¥5.980) – 18.931 / 4.518.473 <80-100%> (+18%)
03./02. [NSW] Pokemon Legends: Arceus (Pokemon Co.) {2022.01.28} (¥5.980) – 17.941 / 2.195.400 <80-100%> (-22%)
04./03. [PS4] Elden Ring # (From Software) {2022.02.25} (¥8.400) – 13.918 / 307.546 <80-100%> (-29%)
05./06. [NSW] Minecraft # (Microsoft Game Studios) {2018.06.21} (¥3.600) – 13.305 / 2.574.724 <80-100%> (+36%)
06./00. [PS5] Ghostwire: Tokyo # (Bethesda Softworks) {2022.03.25} (¥7.980) – 10.144 / NEW <60-80%>
07./08. [NSW] Super Smash Bros. Ultimate # (Nintendo) {2018.12.07} (¥7.200) – 8.982 / 4.822.623 <80-100%> (-1%)
08./01. [PS4] Stranger of Paradise: Final Fantasy Origin (Square Enix) {2022.03.18} (¥8.000) – 7.720 / 36.664 <60-80%> (-73%)
09./10. [NSW] Mario Party Superstars (Nintendo) {2021.10.29} (¥5.980) – 7.710 / 920.035 <80-100%> (-6%)
10./14. [NSW] The Legend of Zelda: Breath of the Wild # (Nintendo) {2017.03.03} (¥6.980) – 5.731 / 1.987.301 <80-100%> (+0%)
11./09. [NSW] Triangle Strategy (Square Enix) {2022.03.04} (¥6.982) – 5.693 / 117.800 <80-100%> (-32%)
12./07. [PS4] Gran Turismo 7 (Sony Interactive Entertainment) {2022.03.04} (¥6.900) – 5.597 / 100.415 <80-100%> (-41%)
13./15. [NSW] Animal Crossing: New Horizons # (Nintendo) {2020.03.20} (¥5.980) – 5.558 / 7.220.089 <80-100%> (+1%)
14./00. [PS4] Tiny Tina's Wonderlands # (Take-Two Interactive Japan) {2022.03.25} (¥7.000) – 5.427 / NEW <60-80%>
15./13. [NSW] Momotaro Dentetsu: Showa, Heisei, Reiwa mo Teiban! (Konami) {2020.11.19} (¥6.300) – 5.237 / 2.629.183 <80-100%> (-10%)
16./18. [NSW] Ring Fit Adventure # (Nintendo) {2019.10.18} (¥7.980) – 4.871 / 3.107.336 <80-100%> (+7%)
17./00. [PS4] Relayer # (Kadokawa Games) {2022.03.24} (¥7.255) – 4.608 / NEW <40-60%>
18./20. [NSW] Clubhouse Games: 51 Worldwide Classics (Nintendo) {2020.06.05} (¥3.980) – 4.208 / 952.899 <80-100%> (+10%)
19./16. [PS5] Elden Ring # (From Software) {2022.02.25} (¥8.400) – 4.184 / 120.747 <80-100%> (-12%)
20./21. [NSW] Splatoon 2 # (Nintendo) {2017.07.21} (¥5.980) – 3.835 / 4.054.178 <80-100%> (+1%)
21./00. [NSW] Miss Kobayashi's Dragon Maid: Sakuretsu!! Chorogon Breath # (Bushiroad) {2022.03.24} (¥4.255) – 3.464 / NEW <60-80%>
22./23. [NSW] Monster Hunter Rise [Best Price] (Capcom) {2021.12.16} (¥5.445) – 3.271 / 38.859 <80-100%> (-2%)
23./04. [PS5] Stranger of Paradise: Final Fantasy Origin (Square Enix) {2022.03.18} (¥8.000) – 3.171 / 21.076 <60-80%> (-82%)
24./19. [PS5] Gran Turismo 7 # (Sony Interactive Entertainment) {2022.03.04} (¥7.900) – 3.122 / 90.699 <80-100%> (-23%)
25./24. [NSW] Pokemon Brilliant Diamond / Shining Pearl # (Pokemon Co.) {2021.11.19} (¥5.980) – 2.971 / 2.530.218 <80-100%> (-6%)
26./00. [PS5] Tiny Tina's Wonderlands # (Take-Two Interactive Japan) {2022.03.25} (¥7.000) – 2.835 / NEW <40-60%>
27./00. [PS5] Relayer # (Kadokawa Games) {2022.03.24} (¥7.255) – 2.684 / NEW <40-60%>
28./28. [NSW] Pokemon Sword / Shield # (Pokemon Co.) {2019.11.15} (¥5.980) – 2.579 / 4.327.586 <80-100%> (+4%)
29./26. [NSW] Super Mario 3D World + Bowser's Fury (Nintendo) {2021.02.12} (¥5.980) – 2.493 / 1.035.136 <80-100%> (-5%)
30./00. [NSW] Taiko no Tatsujin: Drum 'n' Fun! (Bandai Namco Entertainment) {2018.07.19} (¥6.100) – 2.425 / 705.520 <80-100%>
Top 30
NSW – 19
PS5 – 6
PS4 – 5
HARDWARE
+-------+------------+------------+------------+------------+------------+-------------+
|System |  This Week |  Last Week |  Last Year |     YTD    |  Last YTD  |     LTD     |
+-------+------------+------------+------------+------------+------------+-------------+
| NSW # |     83.800 |     85.497 |    267.497 |  1.357.610 |  1.744.974 |  24.277.111 |
| PS5 # |     35.474 |     16.968 |     62.295 |    274.182 |    325.061 |   1.497.517 |
| XBS # |        390 |      3.554 |      1.279 |     35.632 |      8.585 |     164.290 |
| 3DS # |        280 |        287 |        933 |      5.048 |      9.368 |  24.592.496 |
| PS4 # |         13 |         10 |      2.189 |        171 |     59.889 |   9.395.115 |
+-------+------------+------------+------------+------------+------------+-------------+
|  ALL  |    119.957 |    106.316 |    334.193 |  1.672.643 |  2.147.877 |  61.110.873 |
+-------+------------+------------+------------+------------+------------+-------------+
|  PS5  |     32.364 |     13.971 |     51.931 |    242.624 |    278.854 |   1.271.750 |
| PS5DE |      3.110 |      2.997 |     10.364 |     31.558 |     46.207 |     225.767 |
| XBS X |        246 |      2.936 |        432 |     15.940 |      5.760 |      89.231 |
| XBS S |        144 |        618 |        847 |     19.692 |      2.825 |      75.059 |
|NSWOLED|     49.037 |     55.675 |            |    718.224 |            |   1.490.352 |
| NSW L |     12.979 |     10.657 |     77.364 |    237.602 |    454.891 |   4.648.386 |
|  NSW  |     21.784 |     19.165 |    190.133 |    401.784 |  1.290.083 |  18.138.373 |
|  PS4  |         13 |         10 |      2.174 |        171 |     59.665 |   7.819.392 |
|n-2DSLL|        280 |        287 |        933 |      5.048 |      9.368 |   1.197.551 |
+-------+------------+------------+------------+------------+------------+-------------+