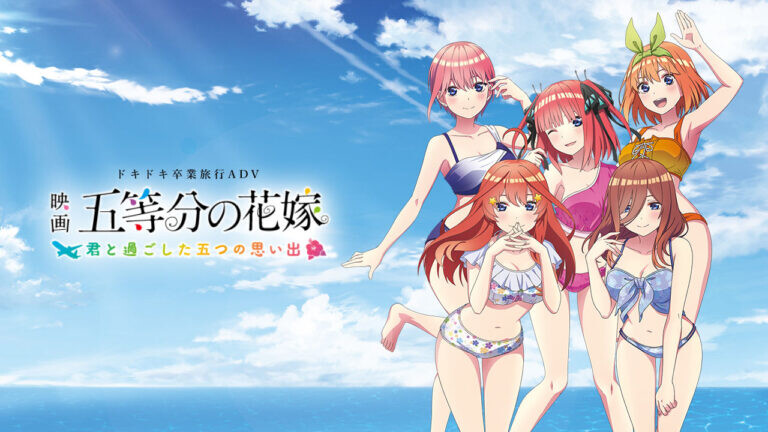 Hardware
Switch è in leggera crescita a 61mila unità, mentre PS5 va forte, raddoppia le unità e si ferma a 28mila. A sorprendere è, ancora una volta, Xbox con l'ennesima "altalena" nelle classifiche: dopo il tonfo della scorsa settimana, Series S/X tornano a crescere vistosamente, piazzando altre 11mila unità.
Software
Nintendo Switch Sports è ancora al comando della Top 30, seguito dal debuttante The Quintessential Quintuplets the Movie: Five Memories of My Time with You, basato sull'ominimo film animato (secondo in edizione Switch, quinto su PS4).
Ad occupare terza e quarta posizione sono Kirby e Mario Kart 8. Ancora una volta, zero giochi PS5 in classifica.
Famitsu Sales: Week 23, 2022 (May 30 – Jun 05)
01./01. [NSW] Nintendo Switch Sports (Nintendo) {2022.04.29} (¥4.980) – 28.259 / 447.781 <80-100%> (-13%)
02./00. [NSW] The Quintessential Quintuplets the Movie: Five Memories of My Time with You # (Mages.) {2022.06.02} (¥7.800) – 21.440 / NEW <80-100%>
03./02. [NSW] Kirby and the Forgotten Land (Nintendo) {2022.03.25} (¥5.980) – 13.290 / 749.577 <80-100%> (+4%)
04./03. [NSW] Mario Kart 8 Deluxe (Nintendo) {2017.04.28} (¥5.980) – 11.848 / 4.664.614 <80-100%> (+19%)
05./00. [PS4] The Quintessential Quintuplets the Movie: Five Memories of My Time with You # (Mages.) {2022.06.02} (¥7.800) – 9.029 / NEW <60-80%>
06./05. [NSW] Minecraft # (Microsoft Game Studios) {2018.06.21} (¥3.600) – 7.617 / 2.663.165 <80-100%> (+5%)
07./07. [NSW] Ring Fit Adventure # (Nintendo) {2019.10.18} (¥7.980) – 6.881 / 3.169.070 <80-100%> (+32%)
08./08. [NSW] Super Smash Bros. Ultimate # (Nintendo) {2018.12.07} (¥7.200) – 6.153 / 4.895.873 <80-100%> (+22%)
09./06. [NSW] eBaseball Powerful Pro Baseball 2022 (Konami) {2022.04.21} (¥7.500) – 6.021 / 183.229 <80-100%> (+6%)
10./11. [NSW] The Legend of Zelda: Breath of the Wild # (Nintendo) {2017.03.03} (¥6.980) – 4.419 / 2.036.972 <80-100%> (+29%)
11./10. [NSW] Mario Party Superstars (Nintendo) {2021.10.29} (¥5.980) – 3.896 / 975.108 <80-100%> (+13%)
12./14. [NSW] Animal Crossing: New Horizons # (Nintendo) {2020.03.20} (¥5.980) – 3.393 / 7.261.929 <80-100%> (+6%)
13./16. [NSW] Monster Hunter Rise [Best Price] (Capcom) {2021.12.16} (¥5.445) – 3.343 / 63.859 <80-100%> (+18%)
14./13. [NSW] Pokemon Legends: Arceus (Pokemon Co.) {2022.01.28} (¥5.980) – 3.006 / 2.256.400 <80-100%> (-7%)
15./15. [NSW] Splatoon 2 # (Nintendo) {2017.07.21} (¥5.980) – 2.794 / 4.086.738 <80-100%> (-2%)
16./21. [NSW] Pokemon Brilliant Diamond / Shining Pearl # (Pokemon Co.) {2021.11.19} (¥5.980) – 2.710 / 2.552.248 <80-100%> (+55%)
17./19. [NSW] Momotaro Dentetsu: Showa, Heisei, Reiwa mo Teiban! (Konami) {2020.11.19} (¥6.300) – 2.209 / 2.663.054 <80-100%> (+3%)
18./18. [NSW] Clubhouse Games: 51 Worldwide Classics (Nintendo) {2020.06.05} (¥3.980) – 2.194 / 983.020 <80-100%> (-2%)
19./23. [NSW] Human: Fall Flat (Teyon Japan) {2020.06.25} (¥3.500) – 1.704 / 263.729 <80-100%> (+33%)
20./20. [PS4] eBaseball Powerful Pro Baseball 2022 (Konami) {2022.04.21} (¥7.500) – 1.649 / 91.625 <80-100%> (-20%)
21./22. [NSW] Pokemon Sword / Shield # (Pokemon Co.) {2019.11.15} (¥5.980) – 1.441 / 4.345.336 <80-100%> (-6%)
22./27. [NSW] Kirby Star Allies (Nintendo) {2018.03.16} (¥5.980) – 1.296 / 984.916 <80-100%> (+8%)
23./26. [NSW] Super Mario 3D World + Bowser's Fury (Nintendo) {2021.02.12} (¥5.980) – 1.236 / 1.051.991 <80-100%> (-2%)
24./09. [NSW] Taiko Risshiden V DX # (Koei Tecmo) {2022.05.19} (¥4.500) – 1.228 / 27.136 <80-100%> (-71%)
25./30. [PS4] Gran Turismo 7 (Sony Interactive Entertainment) {2022.03.04} (¥6.900) – 1.224 / 118.243 <80-100%> (+14%)
26./00. [NSW] Winning Post 9 2022 (Koei Tecmo) {2022.04.14} (¥7.800) – 1.219 / 21.737 <80-100%>
27./00. [NSW] Super Mario Maker 2 # (Nintendo) {2019.06.28} (¥5.980) – 1.192 / 1.220.325 <80-100%> (+13%)
28./00. [NSW] Fitness Boxing 2: Rhythm & Exercise # (Imagineer) {2020.12.03} (¥5.800) – 1.175 / 203.417 <80-100%> (+25%)
29./00. [NSW] Xenoblade Chronicles 2 # (Nintendo) {2017.12.01} (¥7.980) – 1.152 / 287.120 <80-100%>
30./00. [NSW] Super Mario Party # (Nintendo) {2018.10.05} (¥5.980) – 1.140 / 2.082.437 <80-100%>
Top 30
NSW – 27
PS4 – 3
HARDWARE
+-------+------------+------------+------------+------------+------------+-------------+
|System |  This Week |  Last Week |  Last Year |     YTD    |  Last YTD  |     LTD     |
+-------+------------+------------+------------+------------+------------+-------------+
| NSW # |     61.122 |     60.877 |     97.208 |  2.032.467 |  2.775.112 |  24.951.968 |
| PS5 # |     28.583 |     14.830 |     18.330 |    455.193 |    545.230 |   1.678.528 |
| XBS # |     11.573 |      2.541 |        630 |     97.464 |     14.709 |     226.122 |
| 3DS # |        257 |        164 |        341 |      7.340 |     14.468 |  24.594.788 |
| PS4 # |         21 |         16 |      2.725 |        384 |     75.783 |   9.395.328 |
+-------+------------+------------+------------+------------+------------+-------------+
|  ALL  |    101.556 |     78.428 |    119.234 |  2.592.848 |  3.425.302 |  62.033.370 |
+-------+------------+------------+------------+------------+------------+-------------+
|  PS5  |     26.153 |     13.495 |     16.302 |    408.405 |    462.245 |   1.437.531 |
| PS5DE |      2.430 |      1.335 |      2.028 |     46.788 |     82.985 |     240.997 |
| XBS X |      3.041 |        887 |        346 |     31.072 |      9.127 |     104.363 |
| XBS S |      8.532 |      1.654 |        284 |     66.392 |      5.582 |     121.759 |
|NSWOLED|     32.506 |     30.702 |            |  1.089.401 |            |   1.861.529 |
| NSW L |      8.966 |      8.563 |     23.004 |    332.970 |    800.770 |   4.743.754 |
|  NSW  |     19.650 |     21.612 |     74.204 |    610.096 |  1.974.342 |  18.346.685 |
|  PS4  |         21 |         16 |      2.725 |        384 |     75.559 |   7.819.605 |
|n-2DSLL|        257 |        164 |        341 |      7.340 |     14.468 |   1.199.843 |
+-------+------------+------------+------------+------------+------------+-------------+